Watch this video to learn how to add spots codes to a website. 
Follow instructions on the top of the page.
1. Click 'Get codes' button for your site. 
2. Select the spots you want to add. 
Below you will see the codes.
Warning! Make sure that you have removed old popunder codes from your website! Codes from ad networks will conflict with AdSpyglass code.
2.1. 'Code'
A popunder code from AdSpyglass. It works with all devices and let you make custom settings for frequency of creative capping by day. 
2.2. 'Сode with Anti AdBlock'
A popunder code with Anti AdBlock solutions from AdSpyglass. To start work with it you need to make previously setup in . Also see 'Anti AdBlock solution' in Guide  .

2.3. 'Popunderjs.com pop-under'
As an alternative to our implementation of a popunder script you can use the PopunderJS.com solution. The advantage of Popunder.js is the large amount of custom advanced settings. You can see all advanced settings in this page below.
Popunder.js also has the built-in Anti AdBlock.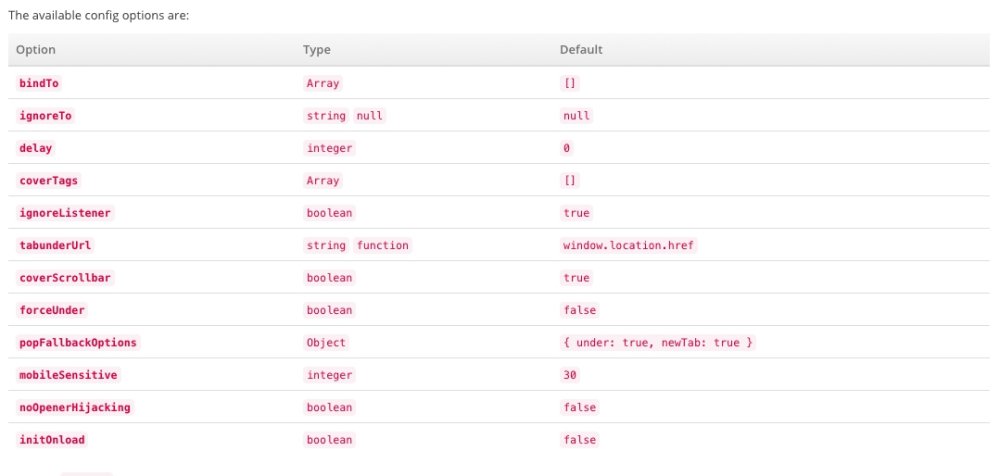 Sometimes Popunderjs.com works better than the AdSpyglass code, but sometimes AdSpyglass code shows better results. We recommend testing both of them.
2.4. 'Direct link'
You may use this direct URL with your own pop-under script.
Warning! It will work for creatives which use ad network's direct URL.

2.5. 'Advanced'
A php-file for banners. You may use it only in one case – if you want to see the stats for the clicks (not only for impressions) for your banners.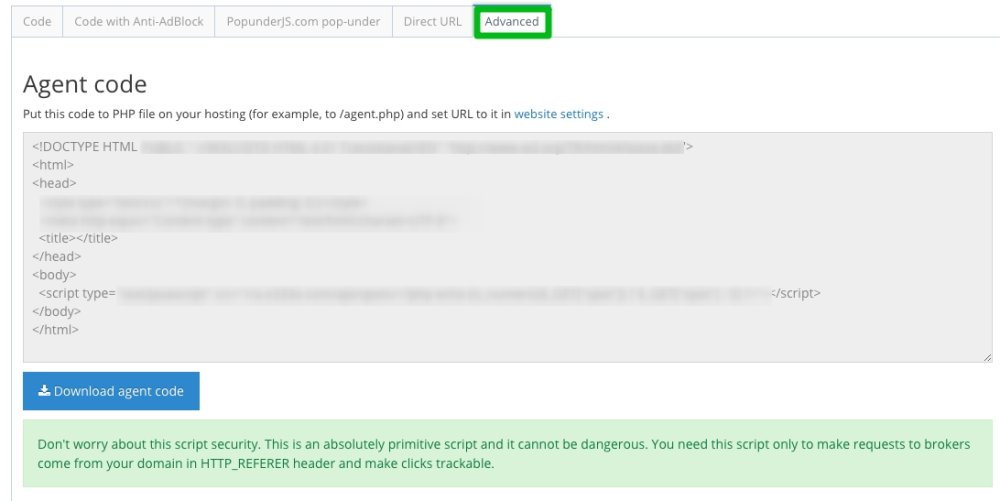 Don't worry about this script security. This is an absolutely primitive script and it cannot be dangerous. You need this script only to make requests to brokers come from your domain in HTTP_REFERER header and make clicks trackable.
3. Insert codes to your website's template.
Banners
Use code without agent.php (checkbox – 'Do not use agent.php'). Place just iframe code to your page, there is no need to add agent.php if there is no pop or IM on this page
Popunders/IMs
Insert the code in section of your webpage the higher the better. If you want to use your own popunder script, take a direct link below form.
4. Repeat steps from 1 to 3 for each of your sites.
5. Check 'current activity' on your Dashboards.
If everything was done correctly you will see 'current activity' on your .